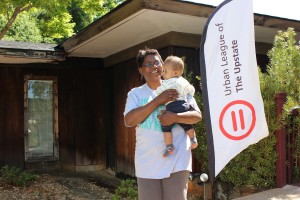 The Urban League of the Upstate's Comprehensive HUD-approved Housing Program provides one-on-one and group counseling that enable residents of the Upstate (Greenville, Anderson, Spartanburg, Pickens, Oconee, Union, Cherokee, and Laurens) to make informed decisions regarding their housing needs and goals. These counseling sessions are categorized into six (6) categories:
Pre-Purchase Counseling
Evaluating mortgage readiness
Determining the price of homes affordable to the buyer
Assessing and improving credit quality
Creating a household budget
Providing guidance on searching for a home, the purchasing process, selecting a mortgage, fair housing laws, and applying for grants or special loan programs
Mortgage Assistance
Educating the homeowner on the consequences of default and foreclosure
Loss mitigation
Budgeting and credit
Restructuring debt
Obtaining re-certification for mortgage subsidy
Establishing reinstatement plans
Pre-Rental Assistance
Rights and responsibilities of tenants
HUD's rent subsidy programs
Application procedures for rent subsidy
Lease legislation
Rental procedures
Grievance procedures
Share housing and fair housing laws
Rent relief
Landlord/tenant laws
Eviction procedures
Homeless Relocation
Referral to housing sources that can assist with placing the homeless, relocation, and case management support
Fair Housing
Counseling designed to educate consumers regarding their fair housing rights and how to recognize and report housing discrimination practices.
Energy Conservation
Assistance provided to those who may need help in reducing energy waste, developing an energy conservation lifestyle or physically improving the energy efficiency of their homes or apartments.
The Housing Counseling Program helps to bridge the gap in minority home ownership and address the lack of affordable housing in the Upstate. The program also provides one-time (per year) rental or mortgage assistance for those in need.
For more information, please contact us at 864.244.3862 or send an email to Housing Counseling.