Urban Achievers Program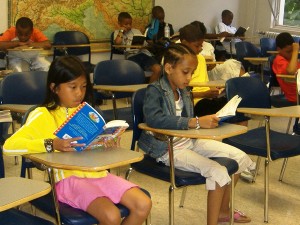 The Urban Achievers Program, a component of Supplemental Educational Services (SES), provides additional academic lessons designed to increase the academic achievement of students in Priority and Focus schools as defined by the South Carolina Department of Education via the Elementary and Secondary Education Act.
Our program objective is to assist students in increasing academic achievement in language arts and math by:
Providing individualized evaluation and instruction in math and reading skills;
Allowing students to have up to 2-hour session of instruction twice a week;
Developing an individual improvement plan for each student; and
Supplying parents a written monthly progress report.
Additional program activities include:
Pass Preparation
Homework Assistance
After-School Snacks
Cultural Activities
Awards Banquet Program
Parent Workshops
For more information, please contact us at 864.244.3862 or send an email to Urban Achievers.