Taking the Right Step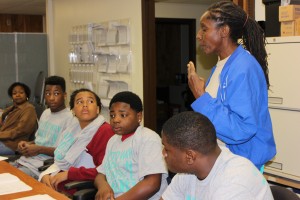 Designed to positively impact the behavior of first and second time offenders charged with misdemeanors or status offenses, the Right Step Juvenile Diversion Program provides support and stabilization to youths in the community who are on the verge of entering the juvenile justice system. Right Step provides home/school visits, juvenile crime prevention education, social skills building groups, parent education, individual and family counseling/mediation to engage youth who are in the early stages of criminal involvement.
All youth will appear before the Neighborhood Accountability Board (NAB), which acts as hearing officers and represents the community and victim. As a result of the hearing, a sanction contract is developed and the youth is allowed time to complete the contract requirements.
The length of participation is based upon the individual, the specifics of the offense, and the ability of the youth to complete sanctions. Generally, youth are given 30-90 days to complete the contract; however, a contract can be extended up to 120 days.
To be eligible for the service, offenders must be between the ages of 8 and 18 and must admit to the offense.
For more information, please contact us at 864.244.3862 or send an email to Right Step.